The History of District Line 'D78' Trains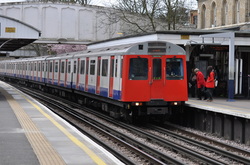 The fleet of 75 six-car all aluminium 'D78' stock was introduced in stages between 1980 and 1983.
They were manufactured by Metro-Cammell of Birmingham
(now Alstrom)

Refurbished by Bombarder Transportation UK, Derby 2006-2008
The trains comprise two three-car units - Driving motor cars [DMC], trailers [TC] and non-driving motor cars [NDMC]. These 3-car sets are marshalled with one DMC facing East and one DMC facing West. There are a small number of units which are marshalled as DMC+TC+DMC.
The D78 trains were originally fitted with bogies were of an 'H' frame design with welded box members. They proved to be a constant source of trouble because of weld failures. Their ridged design also resulted in occasional derailments because of the difficulty London Underground faced in maintaining consistent track geometry across the whole of the District Line. During the period 2000-2003, all the D78 Stock was fitted with new bogies supplied by Adtranz (now Bombardier) of Derby. These bogies were the flexible frame design also supplied for the 1995 Northern Line Tube Stock.
Inaccordance with its normal policy of giving its trains a major refurbishment after 20 years service, London Undeerground started design work in 1998. During 2000-2001 LU's own workshops developed a prototype vehicle for market testing purposes. Following PFI discussions the whole fleet was refurbished during 2006-2008 to provide a minimum life-extension of 10 years.
---