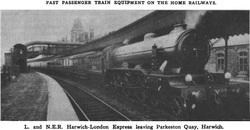 ---
London is, of course, the greatest traffic centre of the Home railways, and recently one of the principal termini of the metropolis celebrated its fifty-eighth anniversary. This is the Liverpool Street station of the L. and N.E. line, formerly the headquarters of the Great Eastern system. At the time of its opening, doubt was expressed as to whether full use would ever be made of such commodious accommodation. So rapidly, however, did traffic expand, that in 1894 an extension, known as the East Side, was constructed, and to-day Liverpool Street station is actually the busiest station in the whole world, with the solitary exception of Flinders Street, Melbourne.

Of all the main-line termini in London, Liverpool Street is the largest. The station is used by more than 230,000 passengers every day, and there are upwards of 1,200 trains in and out every twenty-four hours. The second busiest station in London is the Southern Company's London Bridge station, with 149,000 passengers daily. Then comes Waterloo, with 130,000 passengers daily; Broad Street, 120,000; Victoria, 111,600; King's Cross, 60,000; Euston, 60,000; and Paddington, 55,000. More than 9,000 trains are handled daily at the sixteen principal London stations.


Liverpool Street is a typical London terminus, handling by steam power an exceedingly dense suburban business as well as a heavy main-line traffic, train arrivals and departures totalling 1,230 daily. Here, track widenings outside the station have revolutionised conditions within the terminus and rendered unnecessary costly station alterations. Commencing on 1st January 1934, the L. & N.E. Railway operated a four-track mainline from Liverpool Street as far as Shenfield, 20 1/2 miles from the metropolis. Hitherto the four-track mainline extended only 14 miles from Liverpool Street, and the provision of the two new tracks for a distance of 6 1/2 miles has come as an immense boon. The 20 1/2 mile stretch of four lines of way out of the terminus has enabled the management to entirely separate local from express services; while new power-operated signalling equipment has rendered practicable a three-minute headway, which will also meet any future requirements associated with possible electrification works.
The Home railways rank among the world's largest dock-owners. Ports like Southampton, Harwich, Hull and Cardiff, are all railway-owned and operated, and at most of the railway-owned shipping centres increasing business has recently been recorded. Because of the enormous development of Continental business at the Port of Harwich, the London and North Eastern Railway have just opened (1935) a new quay-side passenger station at this point, together with extensive new freight-handling facilities. The new passenger station is 920 feet long, and is equipped with booking offices, money exchange, parcels and inquiry offices, and a spacious refreshment room. For freight handling there is a huge new transit shed, 900 feet long and 63 feet wide, as well as a new quay 6,000 square yards in extent carrying three lines of railway track.

Regular sailings between Harwich and the Continent date back to 1863. At the present time, the L. and N.E. Railway operate to and from Harwich nightly steamship services with Hook of Holland and Antwerp. The Zeeland S.S. Company operates a daily service to and from Flushing, Holland; and there is also a nightly service with Esjberg, Denmark, conducted by the United S.S. Company.

In connection with each passenger sailing, a restaurant and Pullman car train runs between London (Liverpool Street) and Harwich. Awaiting the ships' arrivals at the continental ports are express international trains to all parts of Holland, Belgium, Germany, Denmark, Switzerland, Austria, etc. In addition, express freight trainferries operate daily between Harwich and the Belgian port of Zeebrugge, enabling loaded wagons to run direct from English stations to interior continental points without transhipment en route.

Handling 200,000 Passengers Daily. Liverpool Street Station, London, is one of the most interesting railway stations in the world. In addition to the important continental business which is handled, Liverpool Street deals with an enormous suburban traffic, worked by specially intensive steam train services. In a normal day something like 200,000 passengers are handled. At the time of writing, the winter train service is in operation, and daily train arrivals and departures total 1,237. In summer the number of ordinary booked trains handled jumps to something like 1,270 daily. Add to this anything up to a hundred or so excursions and special trains, and you will have a good idea of the enormous volume of traffic dealt with daily.

As a matter of fact, during the morning peak period, there are 89 trains into and out of Liverpool Street between 7 a.m. and 7.59 a.m.; 105 trains between 8 a.m. and 8.59 a.m., and 102 trains between 9 a.m. and 9.59 a.m. In the evening, there are 108 trains out between 5 p.m. and 5.59 p.m., and 104 trains between 6 p.m. and 6.59 p.m. Between 5 p.m. and 5.59 p.m., fifty-three trains carry an average of 22,918 passengers daily out of the terminus.

Liverpool Street was the original London terminus of the old Eastern Counties Railway, and the station is rich in historical associations. As the years go by, it is not improbable Liverpool Street and its approach tracks will be converted from steam to electric traction. This, however, would be an awkward and costly business, only to be tackled after the most careful consideration.