A Technical Description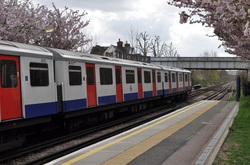 Each operational train comprise two three-car units - driving motor cars, trailers and driving or non-driving motor cars.

The D78 stock shares many similarities with the 1973 Tube stock that runs on the Piccadilly line, particularly in its traction package and wheelsets. The D78 stock has Tube-sized wheels. Traditionally, surface (mainline) stock has always had 1,067mm wheels, whereas Tube stock has 790mm wheels. The smaller wheels allow more headroom in the cars and aids maintenance costs by reducing the different types of wheels and bogies in use.

Uniquely, D78 trains have doors that consist of four pairs of single leaf doors per side.



---
Key attributes



Length

Height

Width

Weight

Seats


DMC

60' 3¼"

11' 10½"

9' 4¼"

27.46 tonnes

44




TC

59' 5½"

11' 10½"

9' 4¼"

26.11 tonnes

48



NDMC

59' 5½"

11' 10½"

9' 4¼"

18.40 tonnes

48


As supplied the D78 trains had an all up weight of 72 tonnes per 3-car unit giving 144 tones for a 6 car train. The provision of new bogies increased the 6-car train weight to 154 tonnes. The 2006-2008 refurbishment further increased the total train weight to 161 tonnes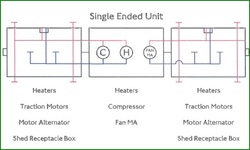 Schematic for the main systems provided in an 'West-end' unit where the formation is DMC+TC+NDMC

---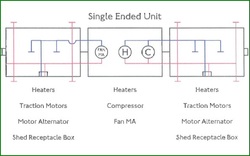 Schematic for the main systems provided in an 'East-end' unit where the formation is NDMC+TC+DMC
---

Schematic for the main systems provided in a complete train where the formation is DMC+TC+NDMC+NDMC+TC+DMC