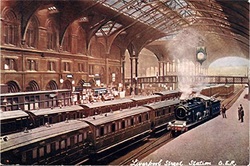 LIVERPOOL STREET STATION

(From a postcard - no known copyright)
---
Mention 'Liverpool Street' to many railway aficionados and fairly quickly the term 'Jazz Service' will work its way into the discussion. What then was the 'Jazz'? Why has it become a bi-word for intensive commuter railway operations? Is Liverpool Street really the busiest station in London?
All these questions and more, have encouraged me to record the development of Liverpool Street and its train services.
A new station, in the heart of the City of London was deemed necessary by the directors of the Great Eastern Railway. The original terminus, opened on 27 July 1847, was located on the edge of the city in the area that borders the areas now known as Hoxton, Shoreditch and Spittlefields and was named 'Bishopsgate'. The partially completed Liverpool Street station was opened to local from 2 October 1874 Opening fully on 1 November 1875. That station would now be recognised as being platforms 1 to 10; sometimes referred to as the 'West Side'. What today nestles under the Broadgate development as the 'East Side' platforms 11 to 18 were added in 1894.
Follow this link for more on the Jazz Service